Traders blog
USD/RUB exchange rate in 2019. Analysts' forecasts.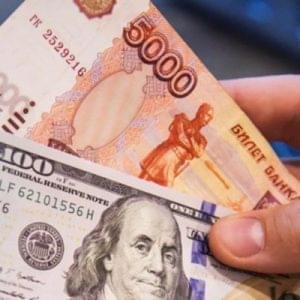 On the fate of the ruble in the coming year there are many different opinions. This can be seen by reading the analytical reviews on this topic. You should understand that any forecast does not have a 100% probability of execution. Factors that may affect the dollar/ruble exchange rate in 2019 are too many. It is very difficult to take them fully into account when making a forecast. In addition, unexpected events may occur during the year that will affect the Russian currency. Therefore, any forecast should be taken as an assumption. The real situation on the Russian ruble market may develop quite differently. Nevertheless, the opinions of analysts and experts can be used as a reference point in the decision-making process in order to preserve their own funds. In this article, I will give you an overview of the predictions on an issue that may affect any one of us to a greater or lesser extent. And first, let's figure out what might affect the Russian currency.
Factors that may affect the USD/RUR exchange rate
The most important of them:
 решения US Federal Reserve and the Bank of Russia at interest rates;
 статистические data on the Russian economy;
 цены for oil;
 санкции;
 геополитика.
USD/RUB exchange rate forecasts
Analytics and experts, as always, were divided into two camps. One of them thinks there's no reason for panic. Others argue that the prospects for the Russian rouble are very sad.
I will start with the forecast of the Ministry of Economic Development. Since the country's budget includes two possible scenarios depending on oil prices, the forecast for the dollar/ruble exchange rate has two options. The base case scenario assumes that oil prices will be at the level of $50 per barrel. In this case, we can see the dollar exchange rate in 2019 at the level of Br66.30 kopecks. If oil prices are significantly lower than the base value, the dollar may go up to 70 rubles 70 kopecks.
Sberbank is optimistic about 2019. According to his analysts, the average price of Urals, which is calculated on the price of Brent oil, this year will be 62 dollars per barrel. And this will keep the dollar at the level of 58 rubles 50 kopecks.
Raw materials market experts believe that two scenarios are possible for the Russian ruble. Drop in oil prices, expansion of anti-Russian sanctions and aggravation of the geopolitical situation may raise the cost of the dollar up to 75 rubles. If oil prices do not fall below 55 dollars per barrel, we can expect the U.S. currency rate at the level of 63 rubles.
The most optimistic forecast, strange as it may seem, was received from Standard & Poor's, which, by the way, earlier raised Russia's sovereign rating. So, his analysts predict that the dollar/ruble exchange rate in 2019 will be in the range from 56 to 58 rubles.
Fyodorov's Inga
9.01.2019