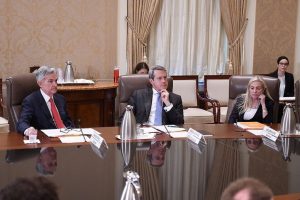 The last meeting of the U.S. Federal Reserve in 2018 ended as expected by most experts, analysts and economists. The key rate was raised by 0.25 percentage points and is now at 2.25-2.5 per cent. In total, this year the U.S. regulator made four decisions to raise the rate.
Jerome Powell participated in the press conference. He noted that the country's economy shows some signs of a slowdown in growth. At the same time, a number of indicators demonstrate positive dynamics. Employment is growing rapidly, unemployment is declining, and inflation is close to 2 percent.
FRS changed its forecasts on the growth of the country's gross domestic product downwards. According to the updated forecast, this year the U.S. economy will grow by 3 percent instead of the 3.1 percent growth expected earlier. Economic growth forecast for 2019 declined from 2.5 percent to 2.3 percent.
Open Market Committee members disagreed on the number of rate increases in 2019. Six people believe that the rate should be raised three times next year. Five people think the bet should be raised twice. Four members of the Committee predict one key rate increase.