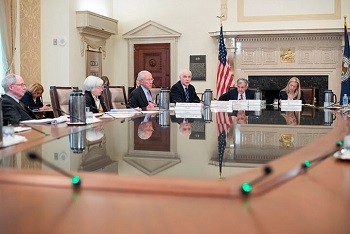 The US Federal Reserve System increased the key interest rate. Now it's in the range from 0.75 to 1 percent.
The decision made was not unexpected. Surveys of analysts, experts, market participants, which have been held recently, indicated that the probability of rate increase at the meeting in March is very close to 100 percent.
As per Fed's statement, the United States has the necessary conditions to make such a decision. The labour market situation in the country continues to improve. This is evidenced by high employment and a steady increase in the number of new jobs. Household expenditures show a positive trend. Achieving the inflation target in the medium term has become likely.
FRS left the forecast for the current year unchanged. The Central Bank still expects GDP growth by 2.1 percent, consumer prices by 1.9 percent. Unemployment rate will remain at 4.5 percent.
Speaking at a press conference, Fed head Janet Yellen warned of a possible reduction in exports in the country due to the strengthening of the dollar and the introduction of the duties promised by Donald Trump.
FRS also confirmed its intention to increase the rate twice more this year. By the end of the year, its average level will be 1.375 percent.