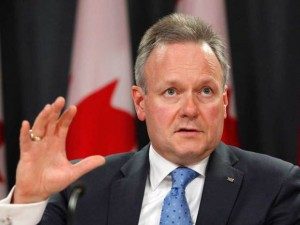 The Head of the Bank of Canada Stephen Poloz spoke at the press conference. It took place after the Canadian Central Bank announced its decision to keep the key rate at the current level of 1.25 percent. This solution meets the forecasts of most analysts.
In his speech, Stephen Poloz noted that the country's economy has made significant progress over the past twelve months. However, at the beginning of this year there was a slight weakening of economic growth. It was connected with the reduction of export deliveries and the introduction of updated rules for the issuance of mortgage loans. Export growth is negatively affected by competitiveness problems.
The head of the Canadian Central Bank also said that interest rates will be under pressure from geopolitical tensions and conflicts in world trade. NAFTA negotiations continue to create uncertainty about economic cooperation between the United States, Canada and Mexico. As a result, Canadian companies do not want to invest in new equipment. Ultimately, this can lead to structural changes in the Canadian economy.
Steven Poloz noted that interest rates are currently at a very low level. One of the important issues for the Bank of Canada will be to determine the rate of increase in the future.