This indicator will be interesting for scalping fans. It will be suitable both for beginners and for those who already have sufficient experience in trading. Ultimate PRO Scalper is the result of teamwork. And I have to say, it's a very good result. The indicator reacts sensitively to what is happening in the market. And in case of occurrence of a favorable situation for opening a deal, it sends a signal. And that's not all. The graph shows a dashboard that allows you to evaluate the strength of the trend, and thus the quality of the signal. Let's start with the parameters of this technical analysis tool as always.
Adjusting the Ultimate PRO Scalper indicator
Parameters look like this: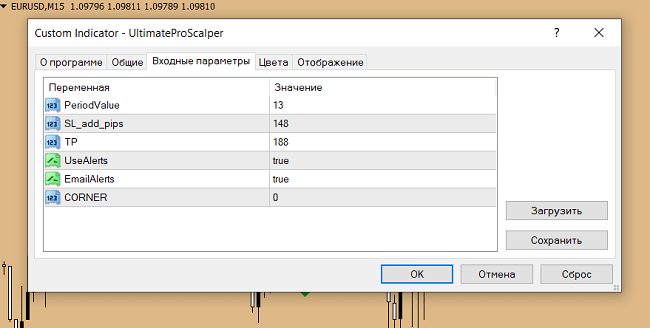 The most important parameter is Period-Value. From the right place.
of the selected period will largely depend on the quality of the signals. So with this one.
of the variable is recommended to work and select the best value. By…
the default is 13.SL-Add-Pips and TP parameters are stop-loss dimensions and
take-profit.Well, the last two parameters are used to set the alarm notification. I don't think they're gonna cause any trouble.
How to trade on the indicator
Look at what it looks like on the chart. I think the terms of opening deals are obvious. But we'll still talk about it.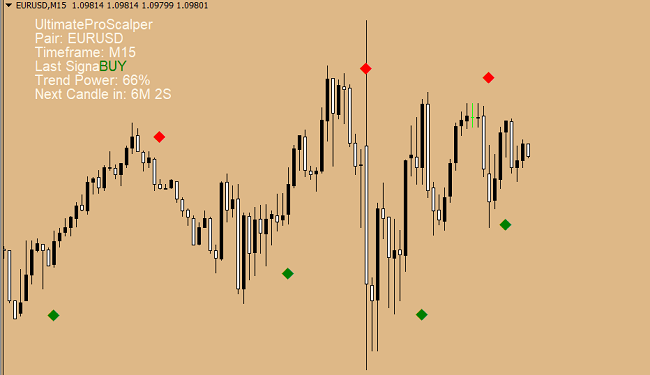 Rhombics painted red is a signal to open
sell.Rhombics colored green is a signal to open
buy.But before making a trading decision, it is mandatory
take a look at the information window of the indicator. In addition to general information (currency
(e.g. steam, TF, signal direction and time to close the candlestick), there is also a
a figure like Trend Power.
That's the one you should pay attention to. Trend Power is the power of the trend. You can enter the market,
if the value of this indicator is at least 60 per cent. Otherwise…
you have to give up the deal. I also want to say that if after the order is opened
a rhombic of a different color, it's better to close the deal. Indicator, which I have told you about today, looks and is presented by developers as a ready-made trading strategy. But I would still recommend using an additional filter for its signals. It can be an indicator that has already proved itself in solving such a task. You can try different types of filters on a demo account and choose the best one. Moreover, it is necessary to test the work of this market analysis tool in any case.Fyodorov's Inga05.10.2019