Traders blog
Purple mist to find entry points
The
Tech Analysis Tool, which will be discussed in this article, will be especially useful for novice traders. It does not require in-depth market knowledge and methods of analysis. In addition, Purple Mist indicator shows relatively good results on all currency pairs and periods. The absence of such restrictions allows its use at its sole discretion. In MT4, the indicator is set according to the standard instruction. I'll send you a link to download the file at the end of this article. And first let's take care of the indicator settings.
Purple Mist
If you look at the right window, you can see that there are many. But almost half of the parameters refer to the visual design of the indicator. Therefore, you can ignore them. I'll just talk about important variables.
Variable Auto-Refresh is responsible for the frequency of signal updates to enter the market.
The indicator performs calculations within the algorithm specified there. But he needs to know how many candles from history should be used for these calculations. In the History field, specify the number that you want.
The time frames selected for trading must be recorded in the Time interval field.
Pr-Period and Pr-Mode is the period of the algorithm and the calculation method that the pointer will use in its calculations.
In addition, specify the type of tool price to be used in the calculation. We do it with Pr-Price. Well, if you want to change the color of the indicator, you can do it in special fields available in the parameters.
You can start trading with the default settings. And then you can try to optimize them if there is such a desire.
How to trade on indicator
Looks like this: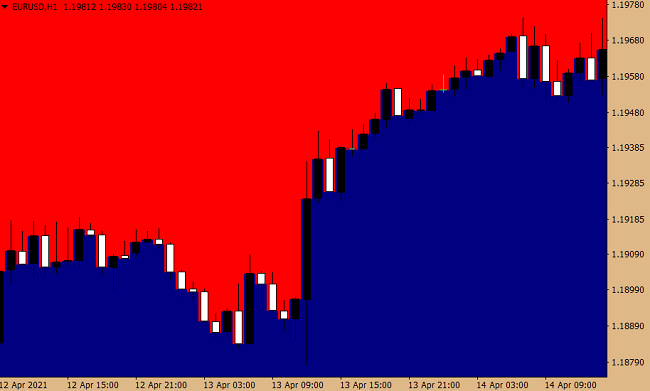 The principle of applying this indicator is very simple. As soon as the price drops to the blue zone you can open a purchase order, in the red zone – for sale.
I want to warn you that this indicator, like any other, will give not only high quality, but also false signals. In order to reduce the risk, it is necessary to use it in combination with other technical analysis tools. There can be many options. You can choose the best one by testing it in your demo account. Don't be afraid to waste your time. Prize profitable trade.
Download Purple Mist can be found here:
Purple Mist
Inga F Purple Fog Entry Indicator for Entry Point Search first appeared in Forex Traders | forex-for-you.ru.