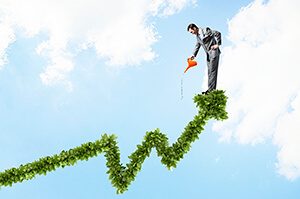 Position trade in the Forex market allows the trader to earn a very large profit. However, this way of trading is not suitable for everyone. Why is that? (Laughs) You'll find out by reading the article.
Position trading is used in almost all markets. In essence, this method of trading involves opening an order by trend for a long period of time. It can last weeks, months and even years. During this time, there may be serious corrective movements in the market. And in order to "survive" them quietly, the trader's trading account must have an impressive amount of funds on it. And not everyone can afford it. In addition, it is necessary to have a sufficiently deep knowledge of fundamental analysis. After all, it is the analysis of macroeconomic indicators and prospects for the future that allows us to predict the movement of the price of a currency pair for months ahead. However, position trading does not exclude the use of technical analysis. But it's just a useful addition. This type of trading requires a trader to be psychologically stable. Otherwise, under the influence of emotions, trades can be closed prematurely with a loss of profit or even with a loss.
Pluses and minuses of positional trading
In order to assess whether such trading is suitable for a trader, you need to use the most reliable way – to weigh the pros and cons. We'll do it now.Benefits:
does not require much time and constant presence in the trading terminal
to get profit it is enough to open only one trade;
no negative emotional background that often accompanies intra-day trading;
there's no need to keep track of current news.
Shortcomings:
large deposit size;
placing a stop-loss at a considerable distance from the order opening price;
problems with testing the strategy because it will take a long time to do so;
Trader has to wait a long time for the optimal entry into the market and make a profit.
Position trading strategies
For successful trading, it is necessary to define the entry and exit points correctly, as well as to follow the rules of management. As I have already written above, the decision in position trading is made on the basis of fundamental analysis. And the entry points will help to determine the technical analysis. To solve this problem, you can use the breakthrough of important levels, the crossing of the price of the moving average and the appearance of reversal candlestick models on the chart. Timely monitoring of such situations on the chart allows the trader to enter at the very beginning of the nascent trend and get the maximum profit.
Position tradingon the forex market can become a source of large income, if the trader has sufficient material opportunities and prefers a conservative style of trading.Fyodorov's Inga02.07.2018