Traders blog
MTF Env is a useful tool for technical analysis
Today we will talk about the MTF Env indicator. This is useful technical analysis market. It can be an effective addition to almost any trading strategy. At the heart of this indicator's algorithm are envelopes with four variants. The first is designed to trade within the time framework of work, and the other three – on older TF. This means that, for example, if a trader trades on the M5, one of the indicator lines will be built on the basis of data from a 5-minute chart, and the remaining lines, respectively, will reflect the market situation on 15-minute, 30-minute and hourly charts.
And one more feature that this tool has. Each line appears on the price chart twice, thus creating a channel.
Options and use traded
No specific indications for the installation of this indicator in MT4. We do what we always do. You can download the pointer file at the end of this article. The list of settings
in the settings is as follows: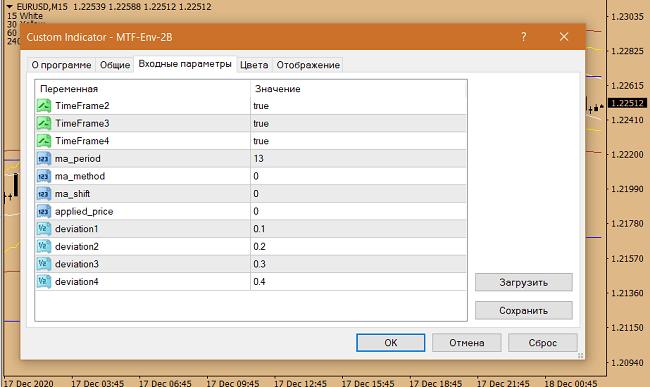 With time frames2, TimeFrame3 and TimeFrame4, you can enable or disable the display in the chart of lines corresponding to the older time frame.
The next three options are ma_period, ma_method and ma_shift. They are designed to indicate the period, type, and transition from price to moving average that is used in this indicator. The applied_price is the type of price that will be applied to the calculation.
And finally the last group of parameters – deviation1, deviation2, deviation3 and deviation4. These are the deviations of the first, second, third and fourth envelopes.
MTF Env rules are quite simple. In the direction of the created channel, we determine the dominant movement in the market. If the channel is pointing upwards, this is an upward trend. If down there is a downward trend. And if it is located almost horizontally, it means that the market is flat. You can trade inside the channel. And you can open trading positions in the division of indicator lines. That is, broken down the top line – buy, broken down the bottom line – sell.
In this chart, o technical analysis looks like this: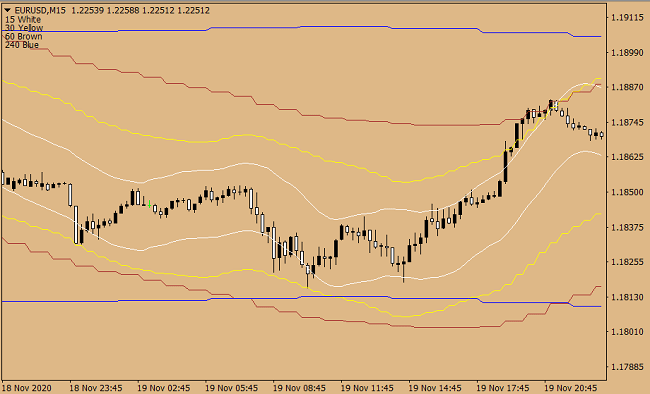 Indicator Lines can also be used to install both stop-loss and take-profit. If you are interested in MTF Env, do not write it off in real trading. First, try to earn a demo account.
Download rate:
MTF-Env-2B
Inga Fedorova 1 0 1001
20.12.2020
Entry indicator MTF Env – a useful technical analysis tool first appeared magazine for Forex traders forex-for-you.ru.