Event
Mario Draghi's speech at a symposium in Jackson Hole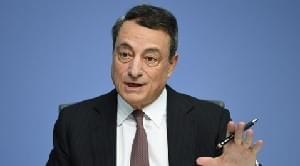 One of the most important and expected market events at the Jackson Hole Economic Symposium was the speech of ECB Head Mario Draghi.
In his speech, he noted that the pace of global economic recovery is increasing and that it is necessary to increase its possible growth. The world is now witnessing a cyclical economic recovery. And without strengthening the potential for growth, the positive global trend may return to a downward trend. Mario Draghi.
He paid special attention to the issue of free trade. According to Draghi, protectionism is a serious threat to her development. To minimize the negative impact of such policies, countries need to work together to ensure fair, free and mutually beneficial trade relations. Organizations such as the WTO and the G20.
can play an important role in this regard
Touching upon the situation in the European region, Mario Draghi noted weak inflation growth rates. This is influenced by several factors, including the labour market. The economy in the euro zone is recovering. The easing of monetary policy is still relevant.
Investors expected Mario Draghi to comment on the future of the asset buyback program. The symposium was expected to announce the beginning of its reduction at the end of this year. However, the ECB head did not address this issue in his speech.