Traders blog
Индикатор Trend direction and life
The
Trend Direction and Force is an indicator that shows accurate enough signals to open trading orders. This is due to the fact that its algorithm contains quality filters. In addition, this market technical analysis tool can be considered universal because it shows the quality of work on different currency pairs and time intervals. Finally, the advantage of this indicator is the ease of application. Its signals are easy to read. Therefore, even novice traders will be able to use the indicator in their trading.
Set trend direction and force
If you open a window with indicator settings, you can see that there are few settings. It's only five.
The most important of these is the trend period. This variable must specify a period. Its importance will depend on the time frame within which the time frame is to be traded.
Smoothing period – here we prescribe the smoothing period.
Count-Draw-Bars – This option is intended to indicate to the indicator how many candles should be used in the relevant calculations.
And finally, the last two settings are called Trigger-down-level and Trigger-up-level. You can use them to adjust the sensitivity of the pointer when quotation marks move down and up.
I recommend optimizing the value of these variables for a specific currency pair and time frame. You have to do it. in your demo account.
When it comes to installing Trend Direction and Force in MT4, this is done in the standard way.
How to apply the indicator in trading
Indicator readings are displayed on the chart in a separate window as a line that can change its color depending on the market situation.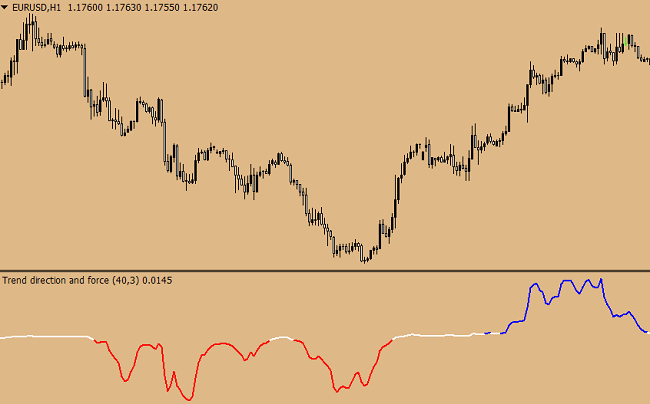 If the line has fallen below the white level and turned red, this is the signal to open the sales order. If the line has risen above the white level and turned blue, it can be considered a signal to open a buy trade. The approach of the red or blue line to the white level indicates that it is time to close previously opened orders.
This indicator I recommend you use as one of the market analysis tools included in the trading strategy. This will help you determine the best points to enter the market. Testing indicator in demo trading is a prerequisite. Take your time to use it in a real trading account.
Download rate:
Trend direction and strength
Inga Fedorova 1 Trend indicator and input strength first appeared in | forex-for-you.ru.