Traders blog
Индикатор All Trend Frames
All Frames Trend is an indicator that can be useful for the trader for a more complete assessment of the market situation. By its name, you can already understand what it is intended for. With this technical analysis tool, the trader can always track which trend prevails in the older time framework. To do this, simply make the appropriate settings.
in indicator MT4 All Frames Trend is installed according to the usual scheme, which is intended for installation in the commercial terminal of any instrument of this kind. And now I'm going to talk about his settings.
All Frames Trend
Configure indicator allows you to use multiple variables.
Options M1 to D1-use are designed in such a way that the trader can determine the time period within which he is interested. To do this, just put in the appropriate box "1". For example, if a trader trades on an hourly chart. At the same time, he wants to know what trend is observed on the daily chart. For this information, place the unit in box D1-use.
Settings from M1-per to D1-per is used to configure MA. The moving averages are used in the pointer algorithm. The trader must rewrite his periods.
Variable method and price are used to indicate to the indicator what types of MA and price the indicator should use in its calculations.
Last On_next_bar. If disabled, the indicator will use the current price in its calculations. If this option is active, calculations will start only after the candle is closed.
How to apply indicator
In the price chart, it is presented as a dotted line, the color of which may change.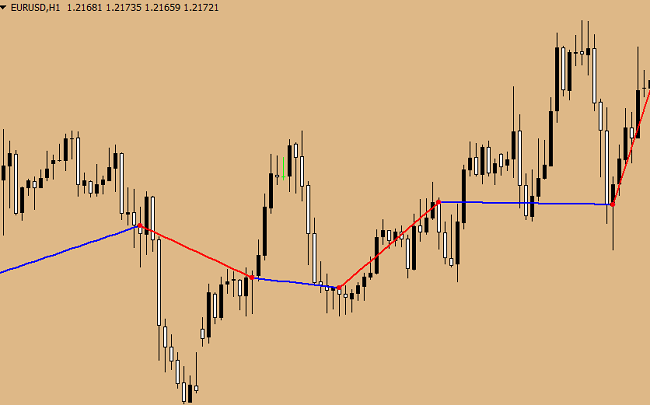 Use in trading this indicator is very simple. If the timeframe of the work, say, was a signal within the strategy to open a buy order, then to make a trading decision, you need to look at the color of the all frames trend indicator line. If it is blue, it means that the older TF is also dominated by upward movement. This improves the signal quality and thus the probability of making a profit. Entering the market. If the color of the line is red, it is better to refrain from opening a trading position.
Similarly, when Seagal is on sale. But in this case, the indicator line should be painted red.
Of course, the All Frames Trend indicator is not intended to open warrants solely on his testimony. But as an addition to ts can be useful. First, evaluate his work in the demo trade.
Download all Trend frames can be found here:
AllFramesTrend
Inga Fe about
25.01.2021
Record Indicator All Frames Trend first appeared Forex Traders Magazine | forex-for-you.ru.