Today I want to offer you an indicator iGodzilla. It can be considered a ready-made trading strategy, because the algorithm uses effective tools of technical analysis of the market. The indicator generates quality signals to enter the market and displays important levels. Installation in MT4 is carried out in the standard way. Let me remind you how this is done. Copy the iGodzilla file, and then place it in the marketplace directory named Indicators. You can find it in a folder. The list of iGodzilla user indicators will not appear until the trading terminal is restarted.
Indicator Options
There are only two. Only one variable, Counter-Displayed, is important. Specify the period that will be taken into account in the calculation. I would like to point out that its value depends on the time frame on which the trade takes place. So we're going to have to work with the variable. You need to find the optimal period for TF work. The second setting in the settings is Display-Label-of-Pivot-Point. You can use it to allow or prevent levels from appearing in the chart.
Trading Rules
First I suggest you see how the indicator will iron out on the currency pair chart: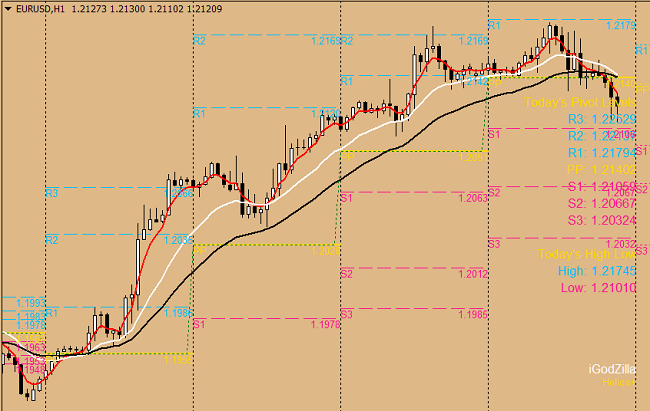 We need to track the position of the red line. As soon as we see that it has crossed the white and black lines towards the bottom up, it means that you can open a buy order. Therefore, if the intersection takes place in the opposite direction, that is, from top to bottom, this is a signal to open a sales trade. The levels displayed in the chart can and should be used to customize SL and TP. Although the iGodzilla already enough to make money in the market, I still recommend incorporating an additional market analysis tool into your trading system. Its purpose should be to filter incoming signals. If, for example, creating a signal to buy, the stochist line leaves the sell-off zone, the probability of profit will be quite high. It is not necessary to use stochatic as an additional indicator. You can pick up another analysis tool that you think will be a good signal filter. All these preliminary work must be done in the demo account. If you are interested in an indicator, which I described in this article, you can download his file at the link below: Indicator iGodzilla Inga Fedorova 07.12.2020 Record Indicator iGodZilla – Full TS First appeared forex-for-you.ru.