Traders blog
GG-TrendBar for MT4
The
GG-TrendBar aims to provide the investor with additional information about the market situation. This will improve the quality of trading solutions. This indicator reports a dominant trend at other intervals for the currency pair.
To use this tool, you need to download the pointer file and place it in the appropriate MT4 directory folder. Next, you need to adjust the indicator.
Settings GG-TrendBar
At first glance it may seem that the settings are very much. But half of them refer to the color design of the information window. There are only four really important parameters. Let's look at them. The
indicator algorithm contains a market analysis tool such as ADX. In settings, you need to set its period. This is what the adx-period option is used to do. In addition, you must specify the price type that adx will use in your calculations. This is done using the PRICE VARIABLE ADX.
The second tool embedded in the pointer algorithm is PSAR. Step-PSAR shows its step, and with the variable Max-PSAR it is the maximum value.
Well, and I will say a few words about the remaining parameters. Up-color, Down-color, Flat-color – here we determine the colors of icons, with the help of which the indicator will indicate an upward and downward trend, as well as flat.
Text color – select the text color, and with the corner option – the position of the information window in the chart.
How GG-TrendBar is used to trade
The chart shows information about the direction of price movement on different TF's on the stock exchange. In my example, eurusd pair: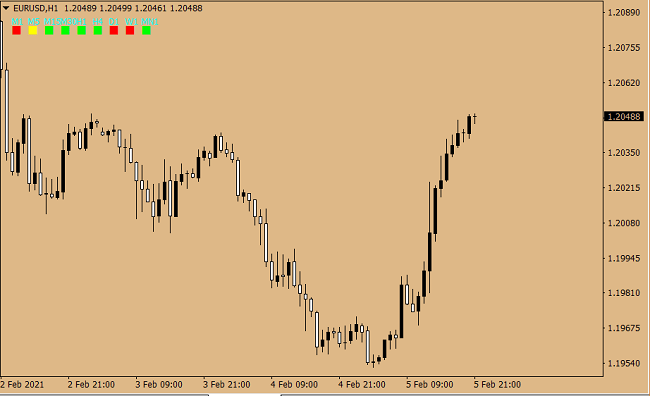 Green squares indicate an upward trend. Squares painted red are on a downward trend. Well, the yellow square is flat.
If the colors on the current and older TF overlap, this amplifies the trend signal received as part of the workspace strategy.
-TRENDBAR indicator does not specify the optimal entry point. However, it can be used to obtain additional arguments in favor of a trading solution.
Despite the simplicity of this tool, I recommend getting the skills to work with it in demo trading. You can then add a pointer to the trading system you are using to make money in the market.
Index Download:
GG-TrendBar
Inga Fedorova 101 001
07.02.2021
Entry indicator first appeared Forex Traders Magazine | forex-for-you.ru.