This indicator may be of interest to those traders who prefer to trade at levels. Gnańska Signal build them on the chart, and also signal a favorable situation for the opening of a trade agreement. It can be used to trade not only currency pairs, but also CFDs. As for the time frame, there are no special restrictions. On this indicator you can trade at any time period. It is not recommended to use it only on the smallest TF: M1 and M5. W MT4 we set the Gann signal as usual. If any of you have any difficulties with this, read my article "Metatrader 4. It gives step-by-step instructions on the card of any indicator in the trading terminal.
Set gann signal indicator
Important settings in settings a bit and should not cause questions. However, I will talk a little about each of them. Start and End – these parameters are designed so that the trader can tell the indicator at what time to start calculating the levels and when to finish this work. Step – This variable can be set to 1.2.3, depending on the number of target levels you want to see in the chart. The following two parameters refer to the beep or reversal alarm: use_alert_new_target and use_alert_targetGet. Indicator , excluding levels, displays information in the Weather chart. You can choose where it is in the chart window with the Corner option. Well, the remaining settings in the settings are not very important, because they are designed to choose the color and thickness of the line.
How to apply Gann Signal
Just look at the chart to understand it: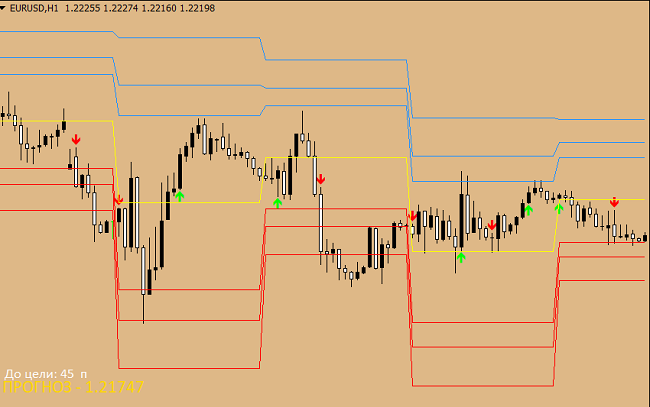 Indicator is based on the price chart of seven levels: central (yellow) and three levels higher and lower. When the yellow level price breaks, a signal arrow appears to open the trade in one of two directions. Red and blue levels can be used to set stop-loss and take-profit. You can lock profits in parts as each of the three levels reaches the price. If a new signal appears, it is recommended that you close the active order that was opened earlier. Mandatory Gnn Signal should be tested in demo trading. First, you need to make sure it is effective for a particular trading instrument and time frame. If this is confirmed, it is possible to switch to a real trading account. Download indicator file: Signal Gann Inga Fedorova 101 001 10.01.2021 Record Level Indicator Gann Signal first appeared forex traders magazine forex-for-you.ru.