Traders blog
Free forex indicator GentorCCI
The market analysis tool I will talk about today may be useful for your deposit. This is the free forex indicator GentorCCI. Commodity Channel Index is available for the standard set of MT4 indicators and is quite often found in various trading strategies. GentorCCI is his more advanced version. Important changes were made to the Commodity Channel Index algorithm, which increased the efficiency of the indicator. It can be used in trading any currency pairs and on any timeframes. Moreover, GentorCCI can be not only a filter of signals coming from another indicator, but also the basis of the TS. He can handle these tasks successfully.
Installation in MT4 terminal is done in a standard way. As for the settings, there aren't many of them. They concern periods and the number of bars involved in the calculations.
Application of GentorCCI in trading
Depending on what this free forex indicator is to be used for, the conditions of its application are also defined. Let's consider 3 variants.
Variant 1. GentorCCI is used to confirm the signal. In this case, we are only interested in the location of its lines relative to the zero level. If the BUY signal is received, it is possible to buy it, provided that the indicator lines are above zero. And accordingly, if the SELL signal is received, it is possible to buy only if the indicator lines are below zero.
It's an example: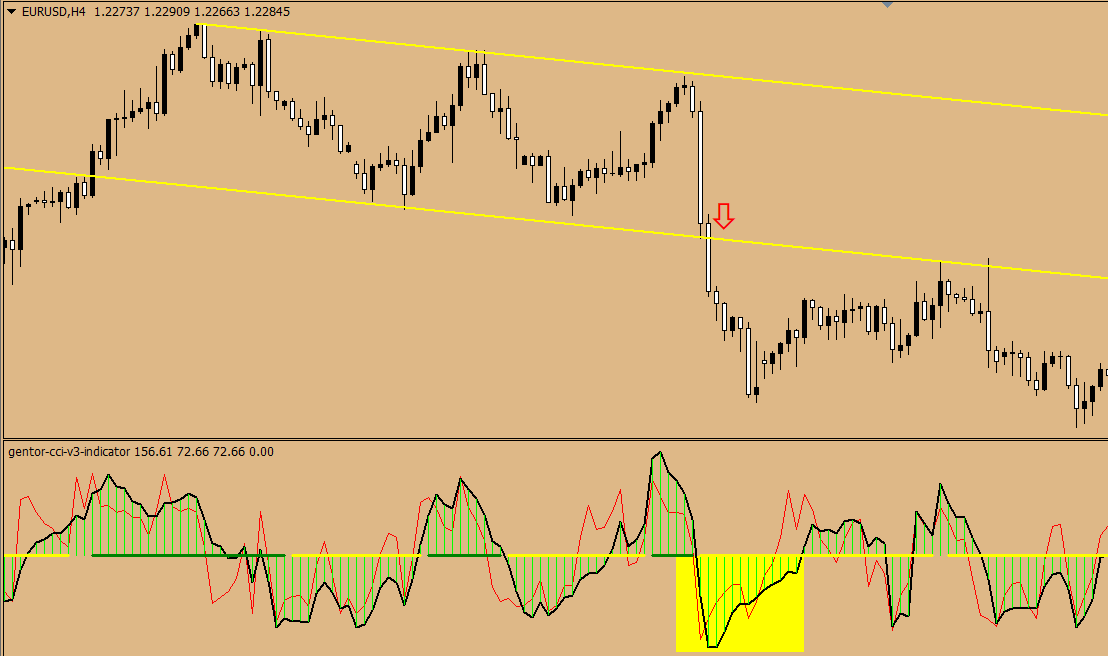 The price moved in the channel. Then there was a breach of his lower boundary. How trustworthy can you be in such a sell signal? We see where the bars of our filter indicator are. They are below zero. And that reinforces the SELL.
signal
Variant 2.
The decision to buy can be taken if the red line crosses the black line from bottom to top. And the possibility of selling appears if the red line crosses the black line from top to bottom.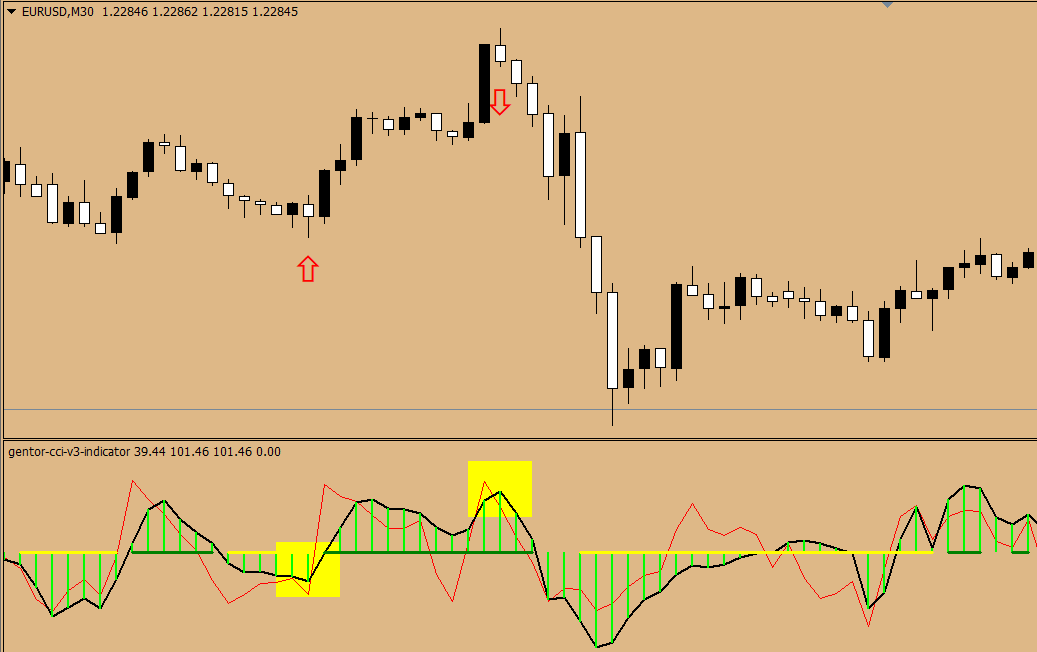 Variant 3. GentorCCI can also be used to identify divergence and to open a trade position based on this. This is the best way to open an order when a trend reverses. It allows you to get the maximum profit.
To decide how to use this free forex indicator in trading, you need to test all the options on your demo account. There you can also try to change the settings to get the best results in trading.
Indicator can be downloaded by clicking here:
gentorcci
Fyodorov's Inga
11.04.2018