Today I want to offer you a tool that can be useful for increasing your trading efficiency. Forex Insider, in essence, is an information indicator. It displays on the price chart the data on open trade positions: the percentage ratio between the number of active buy and sell orders, the volume of long and short transactions, as well as the average price of opening transactions to buy and sell. And he's doing it on several currency pairs. The obtained information allows the trader to assess the market situation and make the best trading decision. I will talk about the strategy of working with this tool in more detail later. And first, let's figure out how to set it on a chart.
Forex Insider: setting an indicator in MT4
Procedure
corresponds to the installation of the Expert Advisor in the trading terminal. I'll remind you what it's like
is being done. You will find 5 files in the archive. One of them is with an extension of Ex4. That and…
there's an indicator. The file is copied and pasted into the folder of the trading terminal "Experts". It is located in the "MQL4" folder.
The remaining 4 files have the set extension. They need to be copied and placed in
the folder of the trading terminal "Presets". After that, reboot MT4.It's important,
For this indicator to work, you need to register at myfxbook.com. Registration data (mail and password)
you will need to specify in the indicator parameters. Only then will the information about
you will be able to access open trades.As well as that, it is necessary to add the site address in the general settings of the terminal in the tab "Expert Advisors". That's how I did it: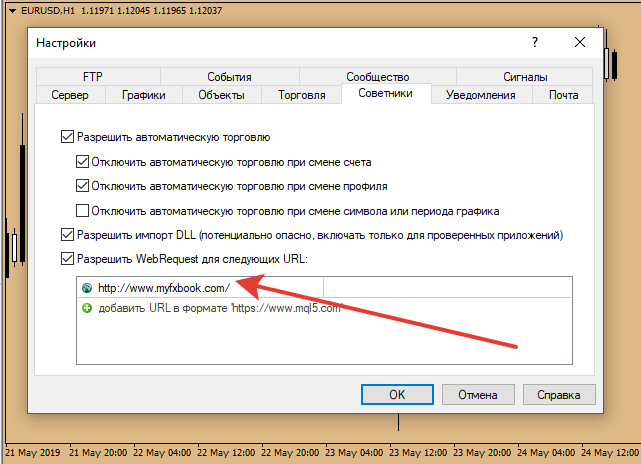 After that, you can install Forex Insider on a chart. You will find it in the tab of the terminal "Expert Advisors".All information
is presented as this table: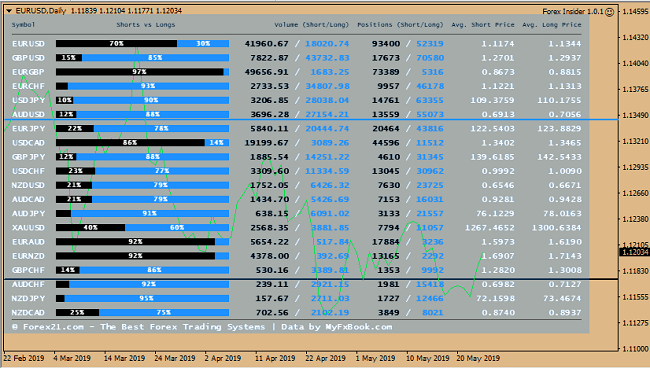 With regard to the settings of this analysis tool, you can use the default settings. Or upload one of the set files I wrote about above.
Forex Insider: Trading Strategy
This indicator
shows the prevailing mood in the market. If for a particular currency pair
70-80 percent of investors have opened deals to buy, which indicates a "bullish"
the mood in the market. And a large proportion of sales orders indicate a bearish
moods. With this percentage, it's too late to buy and sell.
It is necessary to consider the possibility of opening orders in the opposite direction.
The entry points are determined by other indicators. Best time for
Opening trades: completion of trading sessions or a trading day.Forex_InsiderDownloadFyodorov's Inga 24.05.2019