Traders blog
Forex Gump Ultra Trend Indicator
This technical analysis tool for the market situation is in fact a ready-made trading system. This is due to the fact that its algorithm contains several indicators. After processing their readings, Forex Gump Ultra issues signals to open trading positions. The parameters in the settings of this indicator are selected for the two most popular currency pairs among traders: EURUSD and GBPUSD. Therefore, they will have to change if you want to use the indicator to trade other tools. By the way, as practice shows, Forex Gump Ultra works well not only in the forex market, but also in trading CFDs and binary options.
Forex Gump Ultra
The window with indicator parameters is as follows: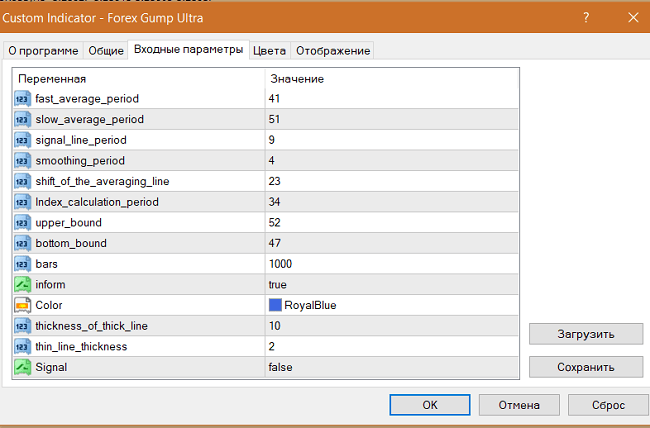 Fast_average_period and Slow_average_period are periods of fast and slow moving averages that are used in the indicator.
Period line MACD set using Signal_line_period.
To indicate the smoothing period, use Smoothing_period.
The shear size of the indicator, expressed in the number of candles, shall be determined by Shift_of_the_averaging_line. The
Index is also embedded in the algorithm. To indicate its period, we use the Index_calculation_period.
To specify price range limits in settings, there are Upper_bound and bottom_bound. Finally, the indicator should indicate which number of candles to use in the calculation is the Bars option.
The last few settings in the settings don't really matter. They refer to the information window, line thickness and warnings about signals to open trading orders.
Trading Conditions
Let's start by seeing what Forex Gump Ultra looks like on the currency pair price chart: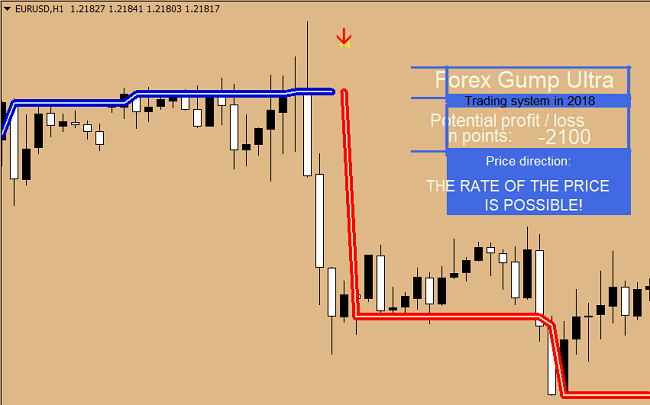 I think looking at this screenshot, you have already understood that this is the opening signal of trading. But just in case I write about it.
If the indicator line has changed from blue to red, and there is also a red arrow pointing down – you can sell.
If the Forex Gump Ultra line has changed its color from red to blue and at the same time see the arrow also blue, pointing upwards – can be purchased.
To get a complete strategy, you need to specify stop-loss placement rules as well as profit. To do this, you can use standard methods: local extremes, levels, trailing stop. If you are interested in this indicator, download it at the link below and test it in demo trading.
Forex Gump Ultra
Inga Fedorova
27.12.2020
Record Forex Gump Ultra Trending forex-for-you.ru Indicator