Traders blog
Fine Fractals fractals indicator
Fractal Analysis is popular with some traders. This can be really useful in a trading strategy because it helps you determine the optimal opening point for your trade. Let me remind you what a fractal is. The classic version of this figure consists of 5 candles. At the same time, the maximum average candle exceeds the highs of the other four candles on the left and right. It's the upper fractal. If the minimum average candle is below the falls of the other four candles, this indicates the formation of the lower fractal. Fractals are always seen as reversal signals. MT4 has a built-in indicator that will successfully build classic fractals. But today I want to indicator fractals Fine Fractals. Its main difference from the standard version is that it additionally tracks the appearance of fractals consisting of 3 candles. This improves the quality of market entry signals.
Configure indicator
Fine Fractals indicator file must be placed in the appropriate trading platform directory folder. There are only three settings: Fine, Flat Shift, and New F Alert. I recommend leaving them unchanged.
Fine option allows you to enable and disable the ability to search fractals that consist of 3 candles.
Flat shift activation will allow the indicator to filter signals, flat periods on the market. If you disable this feature, you can finally get a lot of unprofitable transactions.
For convenience, I recommend turning on the audible alarm when the signal appears on the market. To do this, attach a (true) New F Alert.
Signals for market entry
They are presented in a chart in the form of circles painted green or red.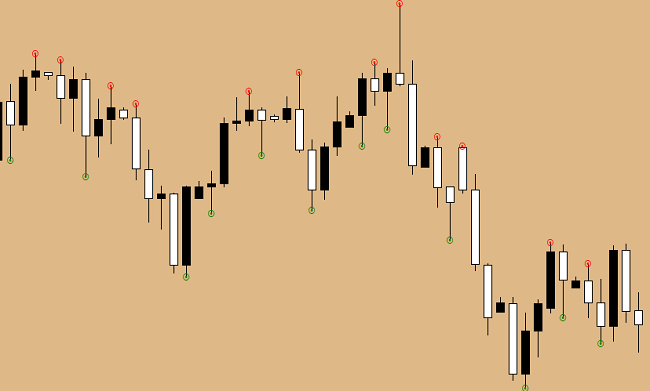 If you see a green circle on the currency pair chart, you may consider opening a buy transaction. If the circle is red, you can open a sales order.
However, I would like to warn you that trading only on the signals of this indicator is not recommended. The Fine Fractals fractal indicator can be an effective complement to other market analysis tools.
As practice has shown, you can get an excellent trading result if in addition to Fine Fractals use stochastic and Levels. Let's say that the upward movement has created an upper fractal, indicating a possible price reversal. At the same time, stochastic is located in the zone indicating the overbought market. And all this happened near a strong level of resistance. The likelihood of a market reversal becomes high. Opening a sale in such a situation would be a reasonable commercial decision. Appearing on the movement down the lower fractal near the support level and finding Stochista in the sell-out area is a good signal to buy. All these trading skills, first of all, you need to get into a demo account.
Download small fractals:
Fine_Fractals
101 000Inga Fedorova
21.03.2021
Record Indicator Fractals Finectals first appeared Magazine for Forex traders | forex-for-you.ru.