Traders blog
Features of the pattern \"bear absorption\"
In my trade I always pay attention to the creation of candlestick patterns. They are a good addition to the market analysis system. The "meal " formula is not uncommon on the price chart. And at first glance, it may seem simple enough to apply in trading. However, there are some nuances, the knowledge of which will improve the effectiveness of the use of this pattern. I want to talk about them in this article.
What is "bear absorption"
If I just say, this is a situation where the size of the bear candle completely coincides with the size of the previous bull candle. However, there are discrepancies in this rule. Some traders take into account the extremes of candles. That is, they consider it "taking over the bear" such a situation in which the maximum bear candle exceeds the maximum bullish candle. And the minimum bear candle is below the minimum bullish candle. However, I have a point of view of other entrepreneurs who primarily judge the bodies of candles. In other words, they identify the formation of a bearish absorption pattern at the opening and closing prices. In my opinion, this is the only right option.
Sample formula in price chart: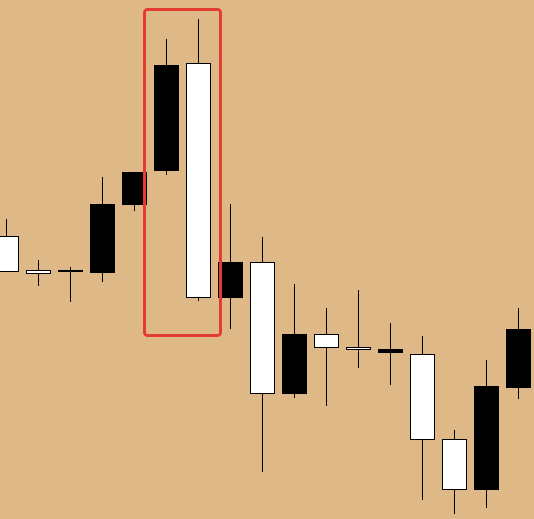 Filters for bear absorption pattern
This formula is used as signal quality. Once created, the transaction opens for sale. But any signal in the forex market can be fake. To minimize this possibility, consider some details.
Pay attention to the level of closing of the bear candle. If it is below the minimum of the previous candle, the probability of continuing down will be quite high.
Also a signal for sale can be considered of high quality if the bear candle is closed in the lower third of the entire range. In addition, we need to look at the body size of both patterns. The signal quality will improve if they are large enough and significantly exceed the body size of the previous 8-10 candles.
Trading Rules
Offer two options.
The market entry may be at the opening of the next candle. The second option is to open a trade as soon as the price falls below the minimum pattern.
Stop-loss is 3-5 points above high pattern " absorption of ." If necessary, it can be moved to break-even level in the future if the market situation develops in favour of an open contract. I recommend you do this at a price that goes half the distance equal to the profit you take. The size of the TP should be 2-3 times larger than sl, which is a classic ratio.
Inga Fedorova
24.12.2020
Features of the record pattern application "Bear Takeover" First appeared magazine for Forex traders forex-for-you.ru.