Traders blog
\"Diamond\" pattern. How to use it in trade.
Today I will tell you about the form of technical analysis called diamond. This is rarely seen in the chart. But if a diamond pattern is created, it can become a qualitative guide for the trader with regard to further trading activities. Therefore, the trader should know about this number and use it in his trade.
May appear on upward or down traffic and signal a possible trend reversal. Highs and low prices are used to build numbers. In fact, diamond are two triangles. After strong market movement, price consolidation has ingested. In this case, it looks like this. First, fluctuations in speed occur in terms of expansion and then in tapered. That is, the two triangles are connected. It should be understood that the ideal geometric figure in the price chart will never be seen for obvious reasons. This also applies to the diamond figure. It may look like this: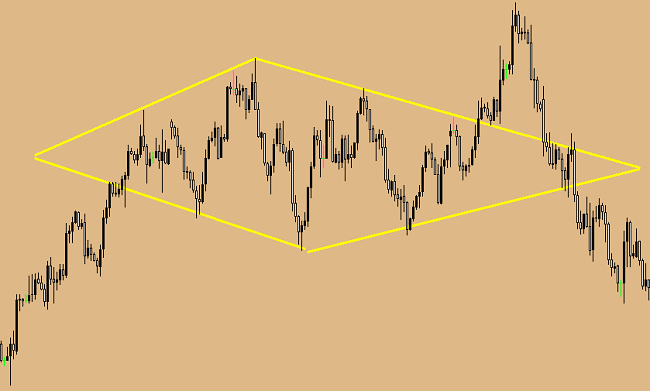 Pattern Diamond can be seen in charts of any trading instruments and on different timelines. But it has long been noted that graphical analysis works better on older TFs.
Trading rules in diamond figure
To open a buy order on the chart after the fall trend should constitute a diamond pattern. Then we wait for the price to break through the top diamond line. But this is not yet a signal to enter the market. It is necessary that the candle sent back is closed over the diamond. Well, if it has a long body, most of which are above the broken line. An additional condition is to beat the price of the nearest local maximum. Now you can open the warrant. Stop-loss is just below the nearest minimum. When determining the level of profit, we focus on the height of the formed diamond.
Opening conditions sell similarly, but with corresponding changes. For sale, you need to look like a diamond after a strong upward movement. The signal of possible entry into the market will be a situation where the price has broken through the bottom line of the diamond and the candle has closed under this line. We open the offer after the price has fallen below the nearest local minimum. Stop-loss place a few points above the local maximum, and the take-profit size should be equal to the height of the diamond in points.
I recommend you start pattern diamond on history. This will help you track it easily in your current schedule.
Inga Fedorova
06.02.2021
Entry pattern "diamond". How to use it in trade. Forex | The magazine first appeared on forex-for-you.ru.