Traders blog
Atron DTA TT for channel trading
Atron DTA TT indicator can be used to trade at any time. There are also no restrictions on currency pairs. The algorithm of this market analysis tool builds a channel on the price chart and gives signals to enter the market in the form of points of two colors. But I'll talk about it a little later. And first let's take care of the indicator settings.
Atron DTA TT
Since the standard MT4 Indicator Set Atron DTA TT is not available, its file should be downloaded and placed in the appropriate trading terminal folder. Next, we set the indicator on the currency pair price chart. Then let's go to the settings.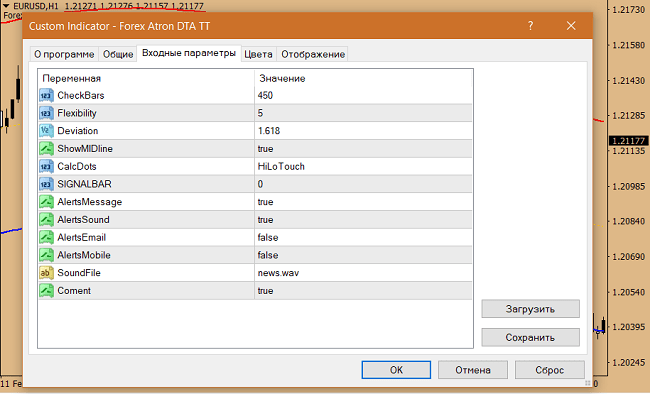 First of all, specify how many candles it should include in the calculation process specified in the algorithm. To do this, we use variable check-bars. Flexibility option
is designed to determine the angle of the channel.
Deviation is an acceptable deviation.
If we want not only the channel itself, but also its central line to be displayed in the price chart, we need to activate the Show-MID-Line function.
Calc-Dots is an important option. Specifies how signal points are calculated. You can experiment with it to improve signal quality.
Signal bar is a signal candle setting.
The other four settings (Alert-Message, Alerts-Sound, Email Alerts and Alerts-Mobile) allow traders to choose how to alert the market to a situation conducive to opening a trading order.
Trading rules
They are very simple. Let's see what the channel indicator looks like in the instrument price chart: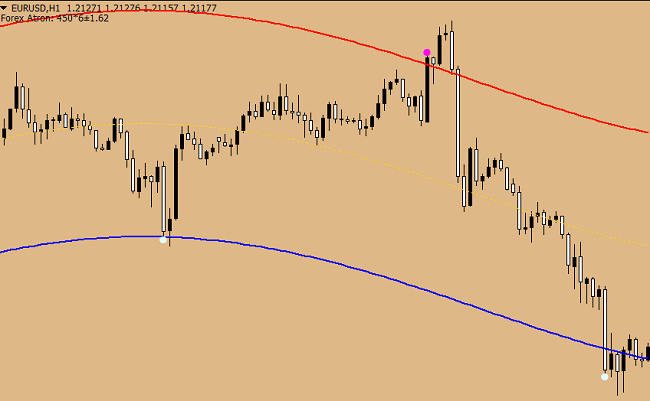 The indicator creates signals when the price approaches one of the channel lines built by it according to the algorithm.
If a white dot appears on the chart, you can choose to open a buy transaction.
If a pink dot appears in the chart, you may want to consider opening a sales order.
Such signals are available for understanding even for novice traders.
But I would like to immediately warn you that this indication will issue false recommendations for entering the market. Therefore, it is not should only be traded on its signals. For profitable trading you need to find an additional tool for analyzing the market situation, which will become a filter for Signals Atron DTA TT. And, of course, we definitely test the work of this indicator in demo trading.
Download rate:
Forex Atron DTA TT
Inga Fedorova 10 10 10 10 1001
19.02.2021
Entry indicator Atron DTA TT to trading in the channel for the first time appeared Forex Investor Magazine | forex-for-you.ru.