Blog przedsiębiorcy
Andrews pitch. How to use them in trading.
Today I want to tell you about a very useful tool for market analysis. These are Andrews. They can be successfully used to make money on forex. Even a novice trader will be able to understand the rules of using this tool. Complexity can initially arise only when building a fork in a price chart. You can get the necessary skills in your demo account.
Andrews Wills are three lines parallel to each other. The middle line is the main line. Indicates the direction of the current trend. The other two lines are at an equal distance from the centerline. In the trade process, they are seen as lines of support and resistance. The task of andrews pitchfork is facilitated by the fact that this tool can be found in MT4 by opening the Insert tab.
How to build Andrews pitchforks
To build the necessary lines, you need three points on the uptrend or downtrend trend.
For example, I used an upward trend chart.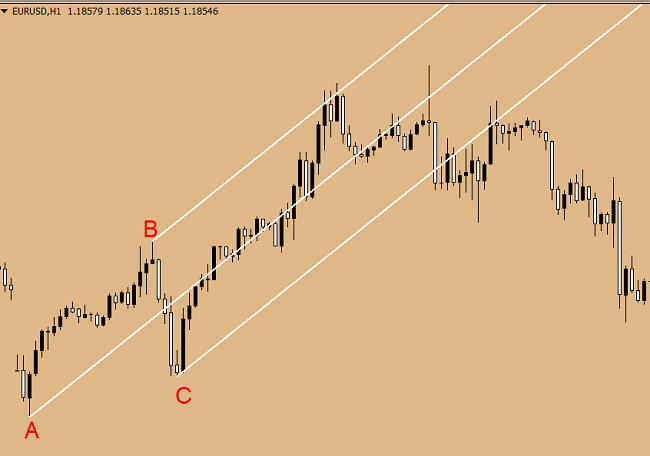 First character point A. This is the beginning of the trend. Then we look for maximum movement. This is point B. Then we pay attention to the minimum price value – point C. Then click "Andrews Wills" in the menu of the trading terminal and stretch the middle line through point A and the point, which is the average distance Bc. The other two rows will appear in the chart automatically.
Trading methods
Trading is based on the observation that the price always tends to line the median. Touching one of the extreme lines often ends with a turn towards the centerline. On this basis and open trading positions. At the same time, the division of the bottom line of the upward trend may indicate a reversal of the direction of price movement. Therefore, the division of the top line into downward movement can be considered as a signal of the origin of the upward trend. But here you need to be careful, because the division can be false. To confirm the failure, 2-3 candles must be formed and closed behind the line. You can see it on my screen.
Wild Andrews can also be used for TP and SL. If, say, we opened a BUY order when the price is cut off from the bottom line, then the profit can be placed at the midline level or slightly below the the top line. Stop-loss set behind the bottom line. We do the same when we open a SELL offer.
This tool is good at trading on a small time framework, especially when combined with other indicators. Test its use in your demo account and you'll see andrews fork performance.
Inga Fedorova
22.11.2020
10100 Andrews Recording. How to use them in trading. The Journal for Forex Traders forex-for-you.ru.